Ghost Tours of Harpers Ferry
Tour Information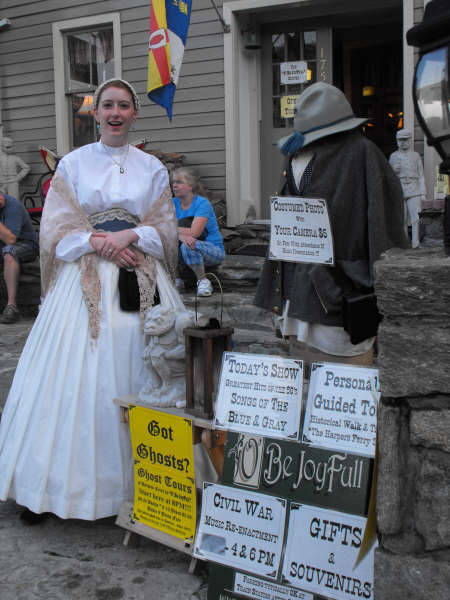 The Ghost Tours of Harpers Ferry by "O' Be JoyFull" is a 'Family & Dog Friendly' walking tour appriopriate for most people of all ages.
(Please see more information about The Tour and Children on the 2nd page of this website entitled Tour Information & Rest Rooms.)
The tour is approximately 1 & 3/4 to 2 hours in length and takes you around approximately 14 blocks of the historic "Lower Town" section of Harpers Ferry to view a number of sites and buildings that have had ghostly phenomenon reported in, or around them, over the years, along with some of the most important 'Historical Highlights' of Harpers Ferry's multi-level, multi-facited, multi-dimentional history.
You will be told about the unexplained, or ghostly phenomenon that has, or is still occurring, as well as stories of both legends and/or historical events, which may account for such unexplained ghostly happenings and encounters .
Of course, with Harpers Ferry's violent past, especially during the American Civil War, many of the stories will tell of death, and some background history and historical highlights of Harpers Ferry is also an element of the tour.
Although the tour has often been described as "Spooky," and sometimes "Scary," we have found that "Scary" is a lot like "Beauty" and that "Scary is in the eye of the beholder." The tour is appropriate for almost everyone of all ages we have found that MOST CHILDREN are perfectly fine with the tour and its stories.*
* - Note: Although most children of all ages have been fine with our ghost tour and its stories, if your child is especially sensitive, or especially scared of ghost stories, or stories about unexplained phenomenon, including ghostly experiences, and if your child expresses serious reservations or concerns about taking the tour, we ask that you respect his or her concerns and to carefully consider whether the tour would be appropriate for that "little person."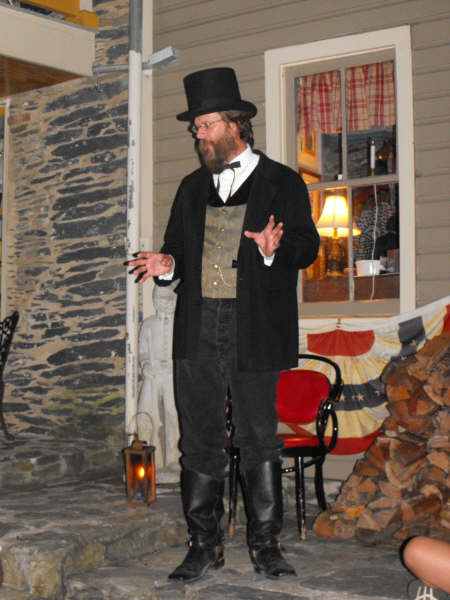 The Walking
The tour is not especially strenuous, though Harpers Ferry is not built on flat land either. Therefore, while you will not have to climb any stairs, unless you want to, you will have to walk approximatley 14 to 16 blocks, as well as up a few streets that go uphill, as pictured below, so comfortable walking shoes are recommended.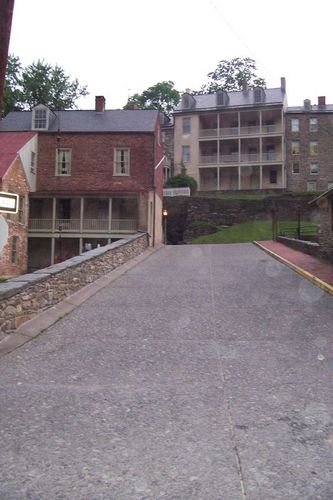 What To Wear Or Bring Along
You should definitely wear comfortable walking shoes.
It is often breezy or windy here in Harpers Ferry, so a light jacket is suggested even during the warmer months. Of course, in the colder months, a heavier jacket and long johns are also strongly suggested. (You will be standing and listening to stories for most of the tour and not walking enough to generate a lot of body heat in the cold and the warmer you are the more enjoyable the stories and tour will be.)
Many people have found an umbrella to be useful for rainy nights.
A flashlight is not neccessary but can be helpful at times walking around some of the dimly lit streets of Harpers Ferry.
Starting Time For The Tour
The tours start promptly at 8:00 PM and we therefore ask you to plan on arriving as early as possible to The Piazza (Front Patio) of St. Peter's Catholic Church, 100 Church Street, Harpers Ferry, WV, but certainly you need to arrive by 7:45 PM at the latest, as it is not fair to keep those people who have arrived on time waiting for late arrivals.
Cost...
Effective January, 2020, the cost for the approximate 1 & 3/4 to 2 hour Ghost Tour is $16.00 per person, $12.00 for children 8 to 12 years of age, and there is no charge for well behaved children under 8 years of age. (We accept cash or checks, no credit/debit cards.)
NOTE: Children who are not well behaved during the tour will be given a sugary treat, and a sugary caffeine loaded drink to wash it down, at the very end of the tour, along with a free puppy to take home, plus an angry ghost to keep you awake for the next week! (Just kidding! Or are we?)
We accept cash and checks only. We apologize for not having the ability to take credit cards.
REST ROOMS
WE DO NOT HAVE ANY REST ROOMS...We do apologize, but we do not have a public restroom. In fact, The Ghost Tours of Harpers Ferry has never had the luxury of being able to provide any rest room facilities over the many, many years of its operations.
The National Park has rest rooms on Shenandoah Street, which is approximately three blocks away from our "O' Be JoyFull" Tour Center. It is under the large 2nd floor sign reading "Stonebraker's Bakery."
Often times The National Park will close their restrooms before you arrive to town so you should consider stopping at one of the following two locations as you drive to Harpers Ferry to use the restroom:
On Route 340, just one block from the Potomac River Bridge, The Exxon Station.
On Route 340, just across from the Aldi Supermarket, The Sheetz gas station/convenience store.